Do you have knitwear that you are not wearing anymore?
You can definitely change that! When it comes to knitwear, usually the quality of older garments we have purchased, is better than any new high-street items. You can check below, a DIY technique, which might be great for woolen tops, in order to alter their shape, their length and their style. By adding woolen yarns in tussles on your pullover you can actually create a completely different look and line! For my make over, I have chosen to use a similar colour woolen yarn and avoid any contrasts. This would give me more emphasis on the actual form and silhouette of my top, without distracting the eye with too much information. I suggest, for similar DIYs to take with you, your garment and visit the stores, in order to choose your materials. Placing any trimmings on the actual garment you wish to create, can really make a difference when deciding. If you wish to go for a monochrome creation and you can not find the exact same tint, go for a slightly darker tone instead of a lighter. Usually after you apply your trimmings, they look a bit darker anyway, so they would be perfect.
Let's go and make this pullover with tussles!
What you will need:
Tools
x Needle for wools
Υλικά
x Old pullovers, or any knitted tops (jerseys)
x Woolen yarns
Mark your Center Front Line (C.F)
Plan a line with your chalk indicating where you wish your tussles to start from
Thread your woolen yarn on your needle and pull it through your garment starting from your planned line
The needle goes through
Pull one yarn out of the garment
You will end up like that
Take out the needle and just leave the two yarns there
Your DIY should look like that now
Take the two yarns and make a single or double knot
Pull a bit the edges and your tussles are steady and ready
Curry on, filling your planned line with tussles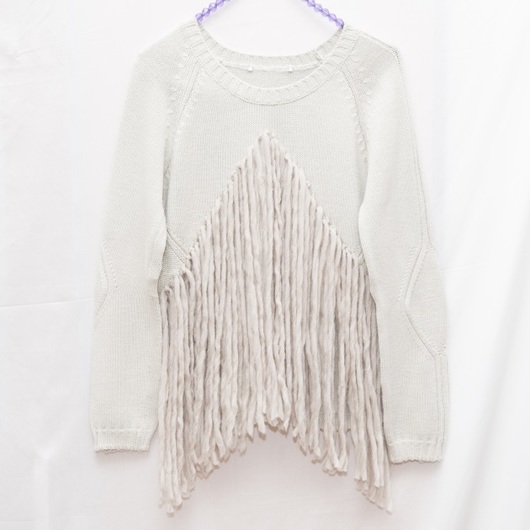 Photography Alexandros Makris
This could be an alternative to thread woolen yarns on looser knitwear
Have a look on more DIY ideas for knits on our Pinterest board